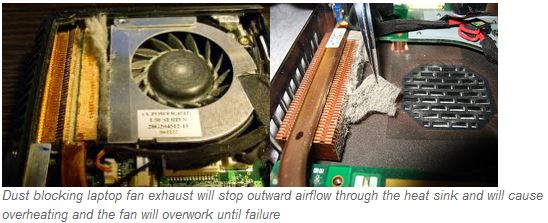 All electrical components generate heat, and so are computers. The fan inside your laptop keeps the electronic parts from getting too hot. It may not be able to sustain cool temperature as heat generates depending on different situations. Environment plays a big part of it. If you see signs of overheating a
contact us
for further assistance. This article will discuss the symptoms, causes of overheating, as well as how it can be prevented.
1. Computer will run slow as it generates heat.
2. Computer may shutdown unexpectedly that will cause system failures and data loss.
3. Computer freezes intermittently during computer use.
4. Processor fan becomes louder as it runs at high speed to dispense heat quickly
5. High temperature around palm rest and laptop base
Causes of overheating
1. Ventilation
Your computer is designed such that heats generated by internal components are sucked out through the vents. Over time accumulation of dust inside the vents can block the passage of heat out of your computer causing your fan to work harder and eventually break
2. Using the computer in a lap or in the bed
Notebooks are designed to run in a flat surface to make the air goes in and out without any interference. Soft beds and even our laps might cover the vents at the bottom and at the side of the computer that may cause overheating.
3. Environment
Laptops are portable that you can carry around with you anywhere you go. If the notebook is placed in a high temperature environment or directly under the sun for a long period, the temperature of the computer might go beyond what it was designed to handle.
Preventing overheating
1. Update your system BIOS. Check your user manual or manufacturer's website to check for available update. BIOS manages the fan, CPU loads, and other components of the computer.
2. Keep the ventilation clean. If the vents accumulated dusts, in long run, it will be clogged and fan will not be able cool the components properly. Regularly clean the vents using a can of compressed air to blow the dust out.
3. Minimize all running applications. Hard drive generates heat when it spins on its top speed to search, read, and write data. If your computer has too many start-up items, it may cause too many activities in your hard drive. Getting rid of unnecessary start-up items and unwanted programs such as malwares reduces hard drive activities that may help prevent overheating.
4.Change power-saving option. Changing the power saving option of your computer not only saves energy but prevents overheating as well.
5. Use a chill mat. If warm environment is unavoidable, getting even a cheapest chill mat will do well in preventing overheating problems.
6. Choose the computer that is right for you. If you used to play high graphics games, using high graphics applications and your computer only has its minimum requirements, CPU and the graphics card may be forced to run on its full speed that may cause overheating as well.
Remember that these are just preventive measures and will not guarantee full resolution. Consider contacting our expert if you are already experiencing any of the symptoms above. Your computer or laptop may need to be stripped down for thorough cleaning and maintenance for a full resolution to be achieved.